Day 4
Tuesday, 27 June 2006
Weedsport, NY to Rochester, NY
74.8 miles, 5h58m, 12.5 mph
Elapsed Time: 9h01m, Max speed: 30.4mph
Total Climbing: 3325ft, Max elevation: 631ft
Total mileage: 284.5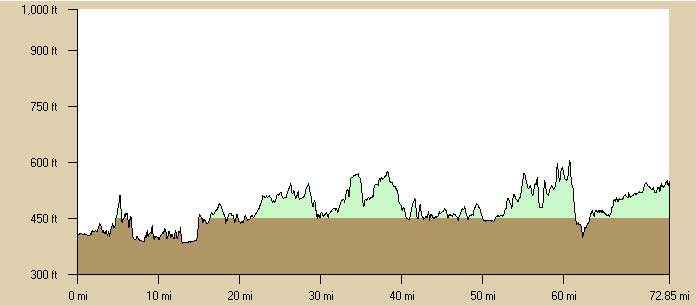 ---

It was bright and sunny when we set out from Weedsport. A strong wind was blowing from the south. Naturally, we immediately headed south to the Montezuma National Wildlife Refuge. We got there at 9:30am and found that the vistor center doesn't open until 10am. We also found that the Refuge does not allow bicycles on the Wildlife Loop. I guess they only want polution-spewing vehicles in the heart of the refuge. It's not like they have tigers in there.

We walked around to see what nature we could see. We looked in one direction and saw water and plants, and some SUVs on the loop road.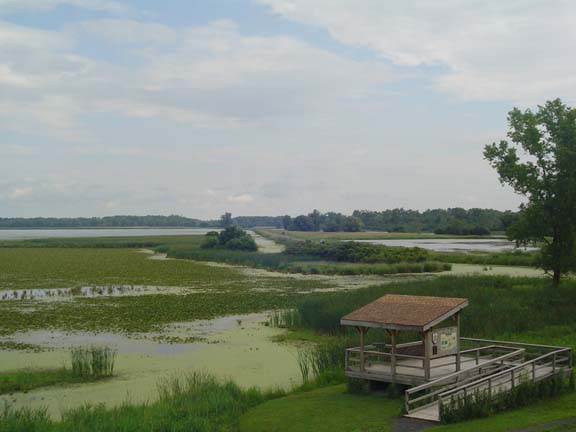 Then in the other direction, in a mud pile, suddenly we saw something....a large yellow caterpillar!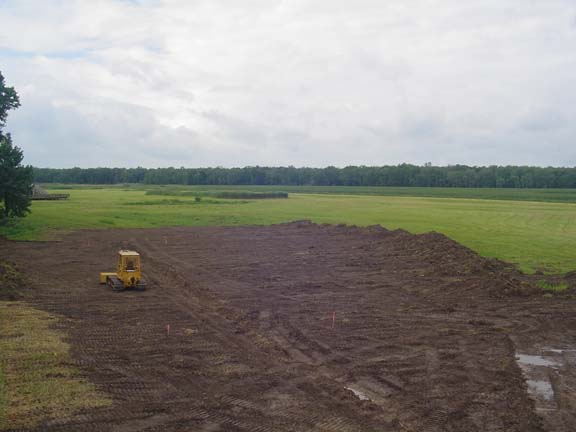 Apparently a caterpillar refuge.


Next, we turned even further south into the brutal headwind to Seneca Falls, where we stopped at the Women's Rights National Park. We spent a surprisingly long time looking at the exhibits.

Then we headed west to Waterloo and then north to get back on Bike Route 5 or the towpath. Now we had a tailwind so things went very nicely. Route 96 had a nice wide shoulder, but a lot of truck traffic. We ate lunch in Phelps and then rejoined Bike Route 5 at Newark.

As we were leaving Newark it looked like a small storm was coming in. We stopped at a fast food joint to wait it out. After a few minutes it started pouring down rain. We were feeling pretty good about stopping. After the rain stopped, we got back on the bikes and discovered that the pavement was dry 100 feet west of the restaurant. It pretty much only rained on the building we were in and the car wash next door.


Things looked good for a little while, but then as we rode through Palmyra it started raining. Then it started raining hard. Then Kevin had another flat.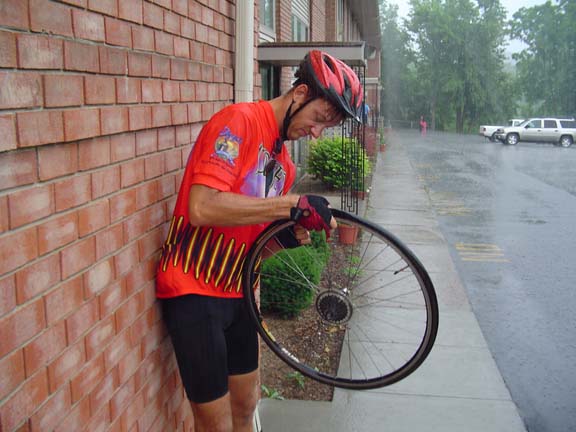 The daily tire change.


The towpath is dirt in this area so we stayed on Route 31. It was raining. Lots of traffic. Lots of carbon monoxide-tinted spray from passing cars and trucks. For a while they eliminated the shoulder for two miles for construction. It was raining. It was great. Eventually we reached Pittsford and jumped on the paved trail. It was way better than riding on 31 in the rain.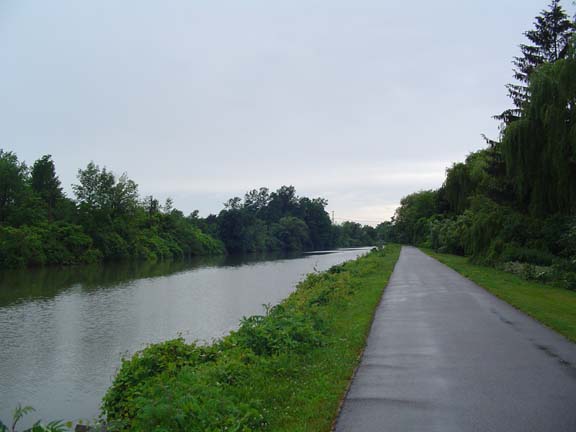 Way better.

There were little parks along the way. They had locks and stuff and all the other comforts of home.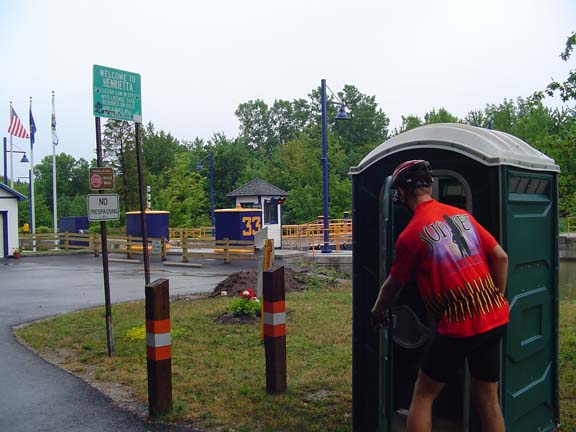 Typical Lock 33 scene.


Eventually we reached the Holiday Inn by the airport. The trail runs right behind the hotel. It's perfect. We ate a bunch of food and did laundry.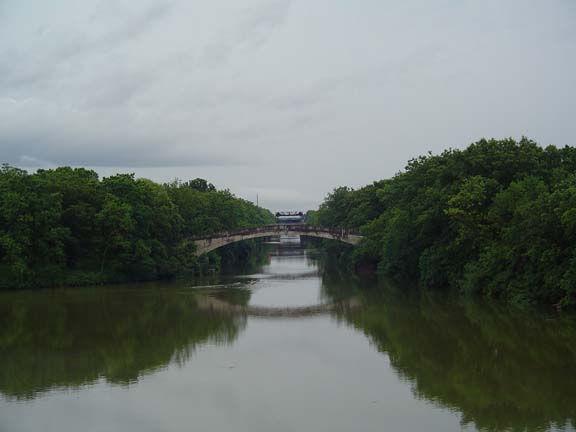 Looking east up the canal from the Genessee River...with a little industrial decay.


Tomorrow we ride to Niagara Falls.

---
Previous | Next

---
"Erie Canal (and more!) Tour 2006" Copyright © 2006 By Bob Clemons. All rights reserved.