Day 12
Wednesday, 6 Jun 2007
Cherokee, NC to Townsend, TN
57.3 miles, 5h03m, 11.3 mph
Elapsed Time: 7h50m, Max speed: 38.8mph
Total Climbing: 3722ft, Max elevation: 5046ft
Total mileage: 732.3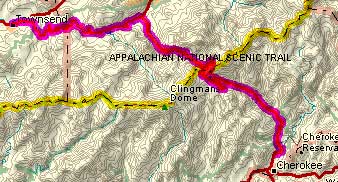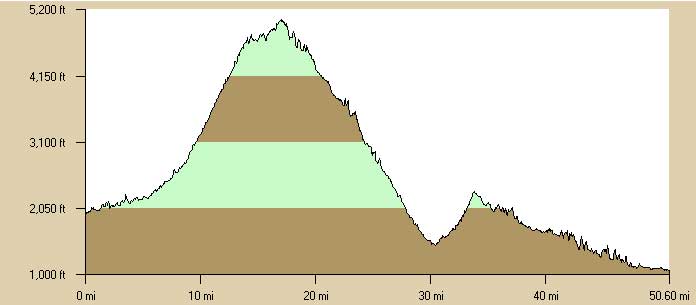 ---

There was another feeding failure this morning. The restaurant at the Best Western is supposed to open for breakfast at 7:00. When I went down there the motel clerk told me that not only was the restaurant not open, but no one had shown up yet. So I went to the convenience store across the street and bought some donuts and orange juice. When I checked out at about 8:00 the restaurant still hadn't opened. I guess it's hard to find good help.

So I rolled out and started my climb to Newfound Gap. There were some exhibits in the Park near the entrance but I wanted to get up the hill before the traffic got too bad so I rode on by. The climb started out easy but got gradually harder until I was grinding along in granny gear. After about 7 miles I came upon the construction project. This section of the road has been repaved and the contractor is finishing up some odds and ends before planting grass and painting the lines. They had one lane closed and were letting each direction go in turn. This was good for me because it meant I could ride on brand new pavement in the closed lane (the one used by the dump trucks and paving machines). It also meant that once I got past the construction zone all the traffic would be in clusters. I would have 10 or 15 minutes of peaceful riding, then I could pull over and allow all the cars to go by. It worked out pretty well. (There is no shoulder on this road, but there are no trucks either (except the dump trucks)).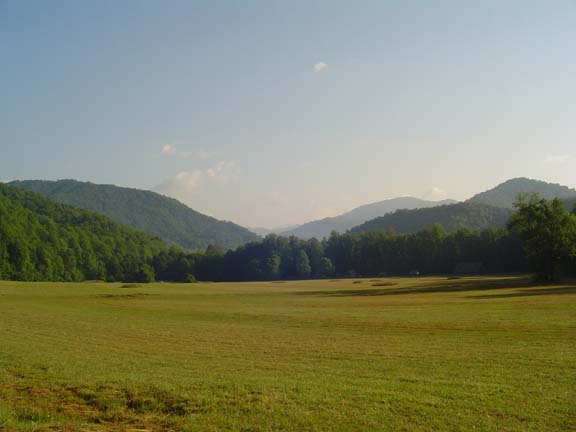 Hey, looks like a flat ride today! Not!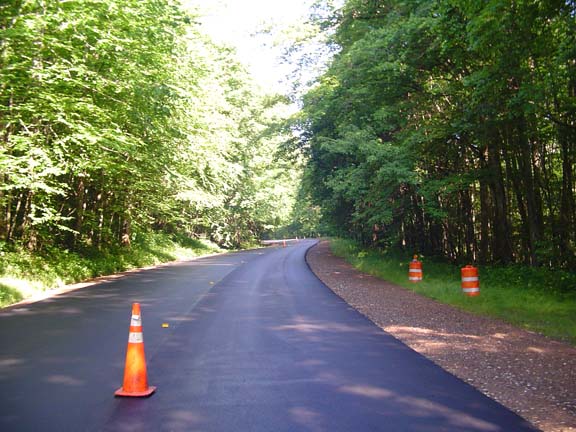 My private road.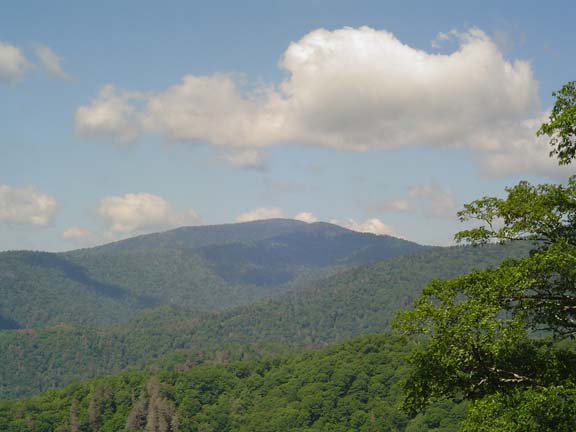 That's Clingman's Dome, the highest point in Tennessee.
Yes, there is a road up there.
No, I'm not going.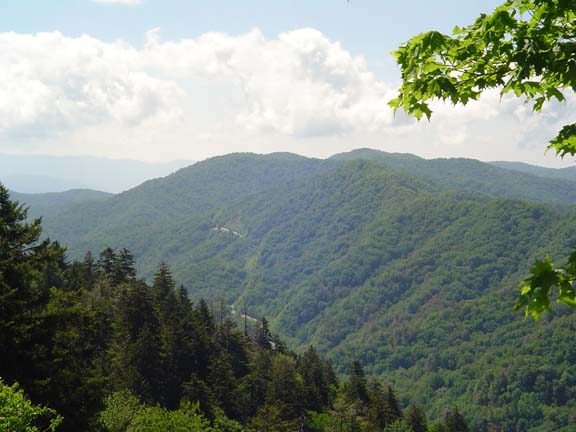 That's the road I came up.

Eventually I reached the top. There I encountered the biggest crowd of people I've seen in weeks. Great Smoky Mountains is the most heavily visited National Park in the system, and it showed. It's Wednesday! This place must be a zoo on weekends.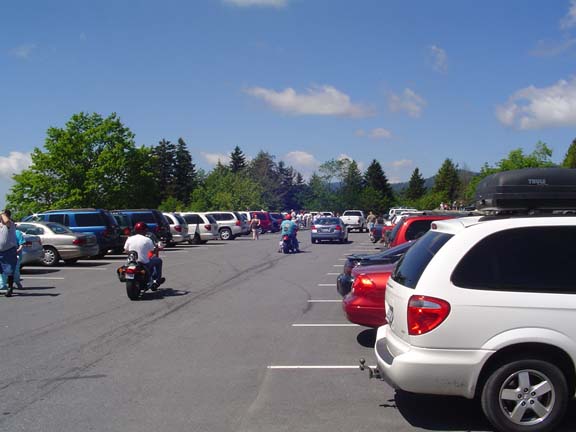 Newfound Gap on a Wednesday.

I decided to wait at the top until the sweat dried off my jersey so I could descend without my jacket. While waiting I talked to a guy from Ohio who had just ridden up from the Gatlinburg side. He was there on his vacation training for the annual Assault on Mount Mitchell, which happens next Monday. The Assault is a 102 mile ride from Spartanburg, South Carolina to the summit of Mount Mitchell. Sounds really hard.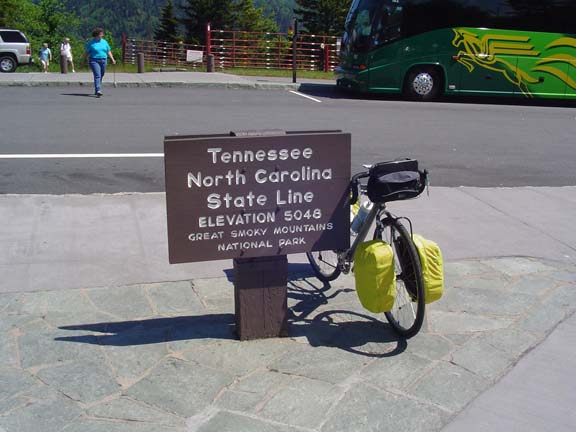 I think my front wheel is in North Carolina.

Eventually I dried off and started down the Tennessee side of the Gap. It was a very exciting 14-mile descent to the Sugarlands Visitor Center. The descent included my favorite highway feature: a loop in US441--it's a switchback that goes all the way around. Unfortunately I was too busy steering to take a picture. There were also a couple of tunnels. I thought I was through with those.

From Sugarlands I decided to take a quick 2-mile run into Gatlinburg for lunch. I had a big cheeseburger at a brewpub. I also had a brew.

Then it was back to Sugarlands and down the Little River Road toward Townsend. There was a 2 or 3 mile climb that I wasn't expecting and did not enjoy. But for the rest of the way the road followed the Little River downstream. It's a beautiful cycling road and it was a beautiful day. The only annoyance was the traffic, which fortunately was much heavier in the other direction, and which seemed to get thinner as I got further along. There were lots of people frolicking in the river--swimming, tubing, fishing. I didn't see anyone else on a bicycle.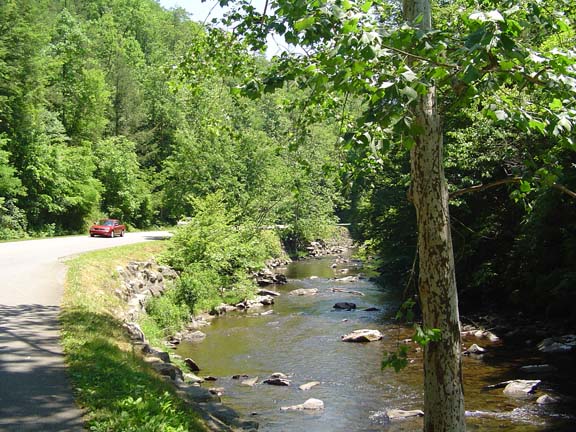 Little River Road, with traffic.


Finally I dropped out of the Park and into Townsend. After a while I found my motel and now I am going to eat.

Tomorrow I plan to explore the Foothills Parkway, where I expect to encounter more climbing. I also hope to encounter Linda, who is flying down to Chattanooga tomorrow morning. Woo-hoo!


---
Next
---
"Blue Ridge Tour 2007" Copyright © 2007 By Bob Clemons. All rights reserved.