Day 8
Saturday, 2 Jun 2007
Blowing Rock, NC to Little Switzerland, NC
44.9 miles, 4h23m, 10.2 mph
Elapsed Time: 6h03m, Max speed: 40.7mph
Total Climbing: 3492ft, Max elevation: 4383ft
Total mileage: 529.6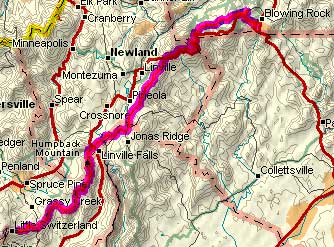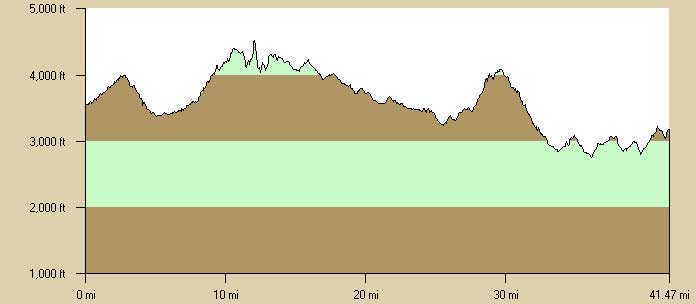 ---

I was up at 6:30 and out in search of breakfast by seven. I found it at the place where all the locals go. It actually may have been the only place open. I had a gigantic bacon and cheese omlette.

I finally blew out of Blowing Rock about 8:30. I wasn't too crazy about the road I took into town yesterday so I took a different road out. This means I skipped about a mile of Parkway. It also meant that I had to decide whether to double back to the Moses Cone Memorial Park (not a cemetery) and its cultural arts center. Well, it didn't open until nine, but I could have hung out for a while. The decisive factor was that I would have had to go uphill.So I lost yet another chance for cultural enlightenment.

The next few miles were through the Julian Price Memorial Park (also not a cemetery) and then there was a big climb along the face of Grandfather Mountain.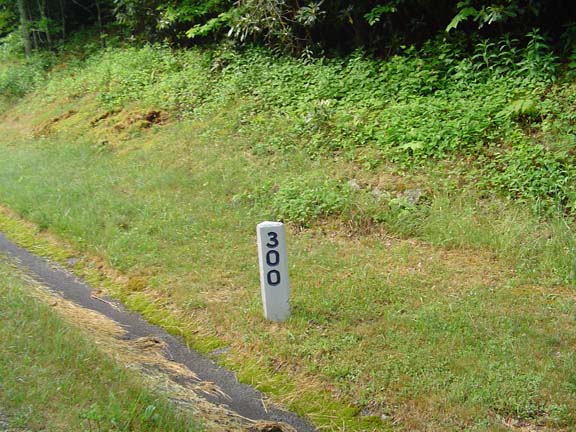 Hard to believe I've seen 300 of these things.


Things got a bit foggy on Grandfather Mountain so I turned on my little blinky light. Sometimes I could barely see 100 feet.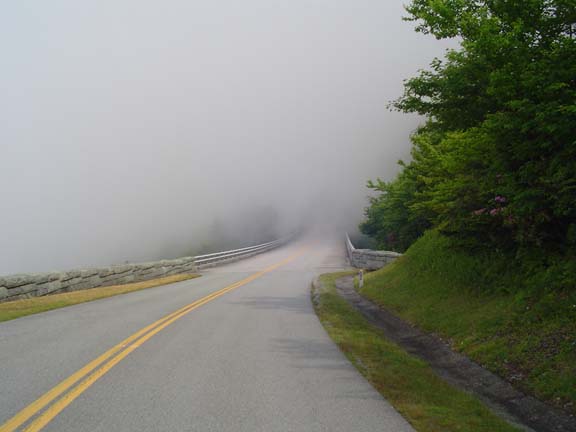 Can't tell whether it goes left or right, but I'm sure it goes up.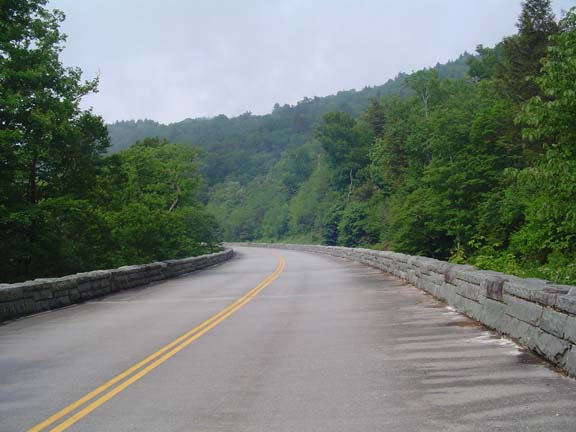 There were many bridges in this section.


Suddenly I was on the Linn Cove Viaduct. This was the last piece of the Parkway to be completed (in 1987). They used some kind of voodoo construction technique to avoid causing environmental damage to the sensitive Grandfather Mountain ecosystem. It's all explained at the visitor center. It doesn't look so impressive when you can't really see it.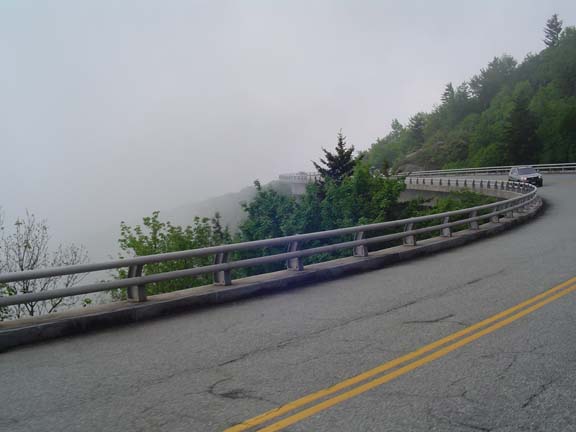 The famous Linn Cove Viaduct.


From there it was mostly downhill to Linnville Falls. There I had to make another decision whether to take a 3 mile detour to the visitor center and the falls, or just keep going. I compromised by skipping the falls but taking a 1.5 mile detour into the village of Linnville Falls for lunch. I had a big plate of meatloaf at Famous Louise's Rock House restaurant. I'm sure you've heard of Famous Louise. She's famous.

Then there was a long climb and a long descent to the Museum of North Carolina Minerals at Gillespie Gap. I looked at some rocks and stuff but I didn't buy any.

I talked to a local cyclist in the parking lot. He had just come down from Mount Mitchell and said there were many riders on the mountain today, even though it was cloudy and there was no view. I'll have to make a decision about Mount Mitchell tomorrow. After all, it is the highest point east of the Mississippi, and how many times will I be there with a fully loaded touring bicycle? We'll see.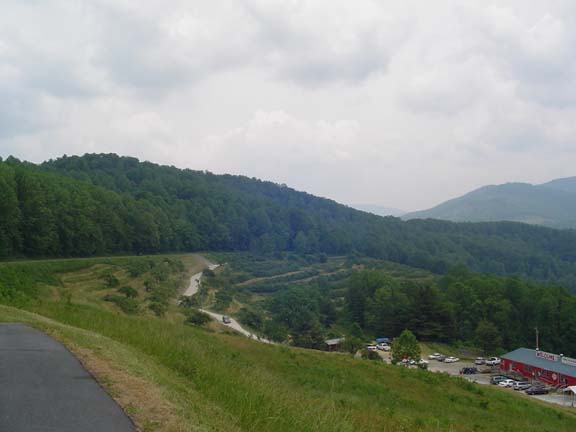 That's an apple orchard.


Two more miles of climbing and I saw the Big Lynn Lodge off to the left. I found a beaten path through the weeds and pushed my bike off the Parkway.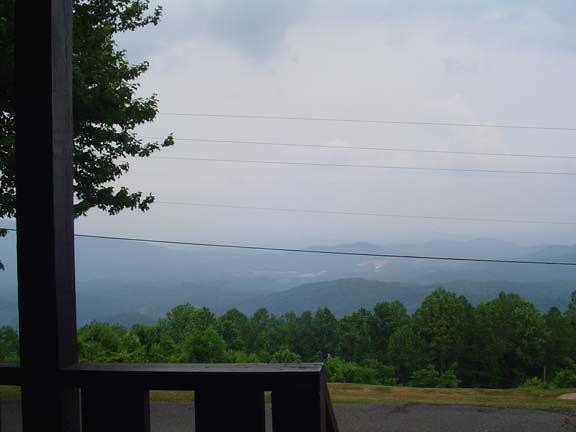 This is the view from my porch.

I'm doing laundry now. Tomorrow I ride to Asheville.

---
Next
---
"Blue Ridge Tour 2007" Copyright © 2007 By Bob Clemons. All rights reserved.